In high school I desperately wanted to write science fiction, to the point that writing in other genres hardly seemed worth the time. In middle school I wrote hard boiled detective stories, which must have been laughable, given that I was 12, but Star Wars and Star Trek were always around and those Pocket Book Star Trek novels were my friends apart from comic books. I think I tried to write my first Star Trek novel by freshman year in high school. I even submitted it to Pocket Books. I forget what it was about but I'm sure it had Klingons, Romulans, the original cast and explosions. I did think to solicit the guidelines and tried to follow it closely, so there were no crossovers with The Next Generation.
Soon after, I was reading Isaac Asimov, partly because he wrote not only stories but about how he got them published, how much he was paid and how he trekked from Brooklyn to Manhattan to bring his carbon copies right to the offices of Astounding Science Fiction. I even subscribed to the digests of the 1990s — Analog and Amazing Stories. This was the life I saw for myself.
An English teacher in high school broadened my horizons a bit. To be fair, they all did, but one in particular turned me on to Woody Allen, which led me down the path of playwriting, humor writing, and telling stories about real people, even if magical things happen to them.
During our junior and senior years, my best friend and I still wrote a science fiction novel, but then we went off to separate universities where we both found more grounded literature and I pursued journalism and playwriting and by the time we got back together in Ireland after graduation, I think I wanted to be a cross between Hunter Thompson and Mac Wellman.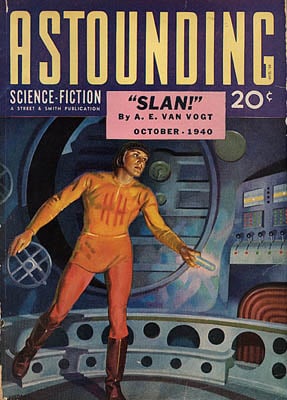 But science fiction was always around. The cool kids at the college paper got me to read Snow Crash. The cool kids in theater got me to read The Illiminatus Trilogy and just what was Infinite Jest, anyway, if not science fiction? Also, in high school I learned that I could read any Vonnegut, as fantastic as some of its premises were, and get credit for reading literature. I even have Kilgore Trout's Venus on the Half Shell.
These days, it's creeping back into my life. I just read Scalzi's first entry into his Collapsing Empire series and rather loved it. I just downloaded a cheap copy of Samuel R. Delaney's Nova and I enjoyed reading the first two of the Murderbot books last year.
While I'm not feeling an itch to write science fiction, I think I am looking to it to inspire some high concept contemporary fiction. Not that you asked. I just have stars and robots, intergalactic empires and artificial gravity on my mind.