"Why is Kubrick trending?" I wonder, and fall right into one of Twitter's traps, despite having watched The Social Dilemma just two short days ago. I click, thinking maybe some undiscovered work has emerged or somebody has found yet another clever way to link Dr. Strangelove to current events. Instead I get this: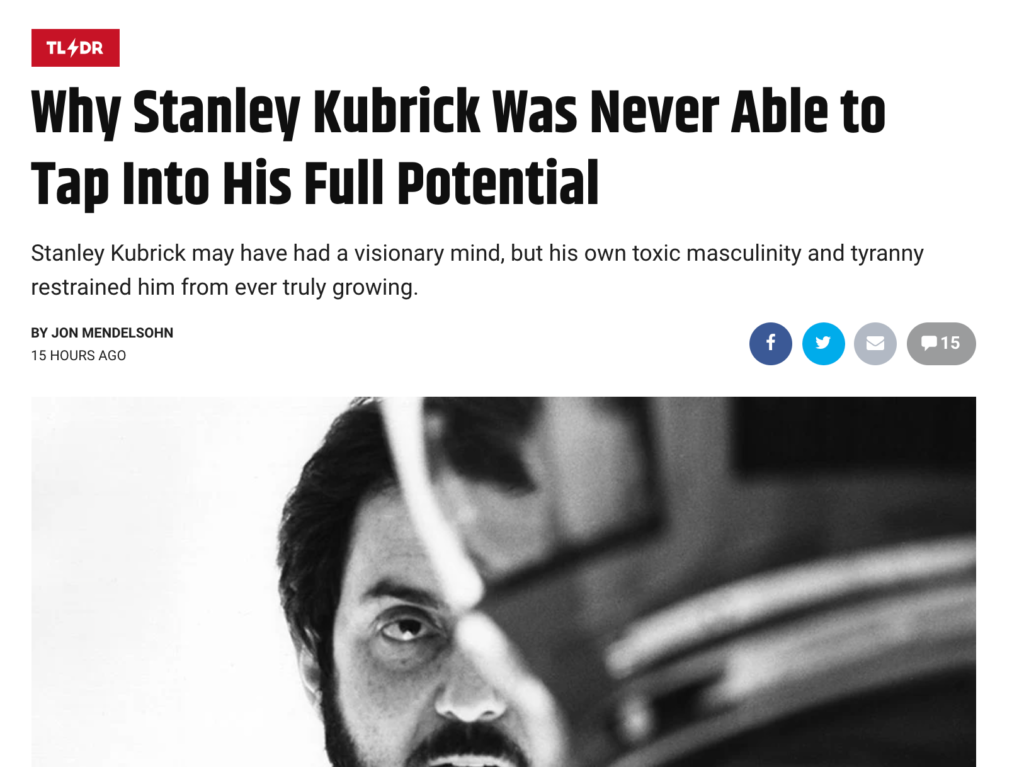 The Twitter takes were harsh and cutting. There are the jokes about Kubrick somehow not living up to his potential, there are the screen grabs that prove that most of Kubrick's output was an outright criticism of toxic masculinity, there are screen grabs of other headlines by Mendelsohn that reveal, to put it kindly, immature tastes.
Which got me thinking, he must be young. I found his bio on ScreenRant and for sure he is new at this and developing his style there and at CBR.com, putting out a mix of serviceable listicles and criticism. He seems to be enjoying himself.
"Jon Mendelsohn is a graduate of Ithaca College with a degree in film. Currently a writer for both CBR and Screen Rant, Jon is also a filmmaker and lover of anything and everything pop culture. When not writing or binge-watching Netflix, Jon loves to travel and find all the hottest foodie spots."
He's just out of school. He's making films, thinking about films, talking about films and writing about them. He's also coming up in an age where living wages for writing is rare, where the internet demands quantity over quality and where the traditional and vital relationships between editors and young writers is hard to come by.
Put another way, how many editors saved me from my own piss-poor, just out of school takes? Mendelsohn is trying to make his way through the world with some productive grit and creativity. The temptation to earn internet clout by citing Kubrick's "toxic masculinity" as his artistic Achilles' heel may be intense.
At my feet sits a bin of notebooks, written mostly between 1997-2000. Some of those thoughts went into columns and reviews I wrote for Lies Magazine. I had column one devoted to politics and one to jazz and blues music. That I considered myself an authority on jazz and blues is now embarrassing to admit. Politics is for everybody, but jazz and blues? That takes deeper understanding and I didn't have it then and don't have it now. Really liking Woody Allen's Sweet and Lowdown is not enough.
I'm always tempted to look in those notebooks but I know there's embarrassment on top of embarrassment in there. Fortunately, they're at my feet and not online. Even the stuff I put online, for publications or my old blog, seem not to have survived outside of the Wayback Machine, if they're even there.
Young writers and critics and artists today are really operating without a net. They can publish on impulse and so their impulses have to be perfect. Hopefully, the day that a young John Mendelsohn tried to get a dead Stanley Kubrick to get over his hang-ups and realize his potential won't be long remembered. If it is, let's remember it for the risks young writers, thinkers and artists face these days. Mendelsohn has plenty of time to realize his potential and I'm sure he will, if he's encouraged with care.